Slave to the Traffic Light
USD150.00
Crafted from sterling silver with genuine garnet, citrine and peridot
Description
Inspired by the Phish song Slave to the Traffic Light, I designed this pendant for the most dedicated phans.
Crafted from sterling silver with genuine garnet, citrine and peridot, this piece is weighty and feels good to wear.
So, get this one, and the next time you're stuck at a traffic light on the street, or just the traffic lights in life, glance down at the gemstones glistening in the sunlight, and contemplate your favorite "Slave" jam…next thing you know you'll have the green light.
Just ignore the guy from Jersey honking his horn at you…just roll on down the road.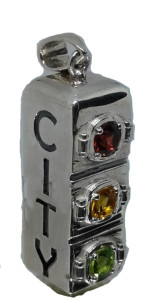 Additional information
| | |
| --- | --- |
| Weight | .02 kg |
| Dimensions | 8 x 4 x 4 cm |